Service Program Award Application
Wed, Feb 23, 2022 5:14 AM

-
---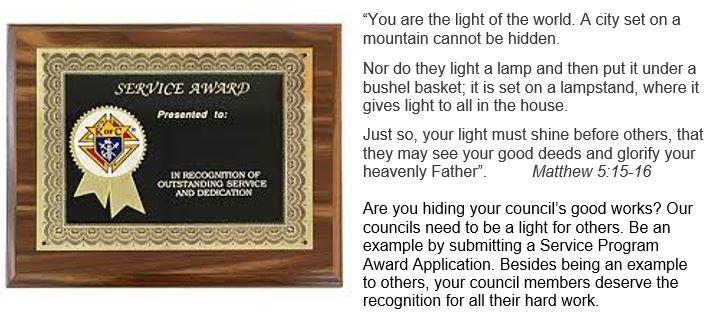 Each year our State Council recognizes the best program in each area of the Service Program areas: Faith, Family, Community, Culture of Life, at the State Council Convention.
A team of judges chosen by the State Deputy awards the top prize in each category to the winning Council at the State convention. The form used to tally scores is here: MI03.
The winning entries are then endorsed by the State Deputy and submitted to the Supreme Council office by June 10 for judging to determine the International Service Program Award Winners. From each jurisdiction winners are chosen as the single best Faith, Family, Community, Culture of Life, program Order-wide for the fraternal year.

DO NOT SEND MATERIALS DIRECTLY TO THE SUPREME COUNCIL.
Service Program Awards Entry Form #STSP
Read the instructions HERE. A change is that your submission needs to be emailed, no physical copy or binder necessary except for display at your council functions.
Compile the application, see the guide for explanation: SERVICE AWARD GUIDE.
Submission of all applications need to be made before April 15.
Examples of past winning entries may be viewed here: Rock and here: Living Rosary.
Don't forget to complete and include the form STSP.