Council 10724 Wins Large Council Award
Mon, Apr 17, 2023 9:35 AM

-
---
Congratulations to the Au Lac Council #10724 of Anchorville upon winning the Large Council Award at the Tri-District Rally on Sunday April 16 at St. Christopher Parish in Marysville.
The Large Council Award is given to a council with 150 or more members that has the highest percentage of members present at the Tri-District Rally. A similar award, the Small Council Award, is given to a council with under 150 members.
The districts represented at the event were 103, 118 and 123 - a total of 13 councils.
The Council name will be engraved on the plaque in the coming days.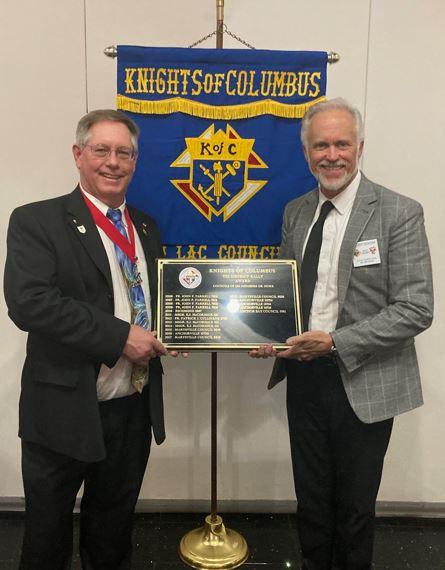 Pictured in the photo is District Deputy #118 Ron DePestel and Grand Knight Council #10724 Jeff Wooten.
Thank you to the Brother Knights and wives who attended Mass and the Rally!

Mark Kehoe Council #10724