Knights of Columbus Men's Retreats
Mon, Apr 4, 2022 4:37 PM

-
---
Over the last year our State Chaplain Fr Paul Ballien has held a number of Men's Retreats based on the "Into The Breach" video series and "Guadalupe The Miracle And The Message". Since then, additional retreats have begun to take place in other Dioceses across Michigan such as Grand Rapids and all across the U.P.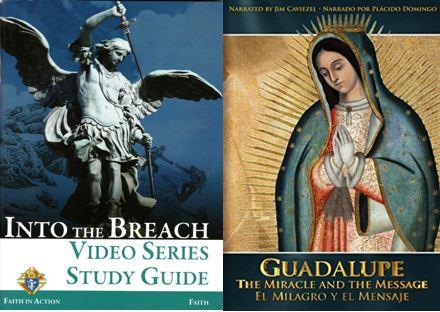 I happened to attend the first in a series of retreats that Fr Corey Litzner was hosting. It was at St Michael Parish in Marquette and when I arrived early (and I was terrified that nobody would show up), I met District Deputy Jim Butorac and Grand Knight of Council 1541, Bruce Coron, boiling enough hot dogs to feed an entire U.S. Army Regiment! I asked them if they will have enough hot dogs and Jim told me they were expecting 60. As it turned out the room was full, most of the hot dogs were gone, all the pizza was gone, and the retreat went very well. I was taken back by the outstanding attendance, so was Fr Corey! Rumor has it there were a couple of men who filled out form 100s'. Since then, the retreats in Sault Saint Marie, Houghton, and Ironwood have all had very good attendance, especially in Houghton. The weather however interfered with the Newberry retreat - it was postponed due to a nasty ice storm rolling across the state that evening (to be rescheduled).
On March 25th, the UP Catholic had a nice article about Fr Corey's retreats – click the logo below and go to page 5.

Fr Corey has traveled from Sault Saint Marie to Ironwood – from one end of the U.P. to the other because he agreed to be the Diocesan Chaplain for the Knights of Columbus. This is commitment to our order. We all, some 60 thousand of us in Michigan, do the good works of our order by using those gifts the Lord has given to each of us. Our Diocesan Chaplains and brother knights who happen to be Priests, do their part by helping us all grow spiritually. We are blessed to have them among us.
BOTTOM LINE men: when you hear about upcoming Men's Retreats hosted by one of our Diocesan Chaplains, make it a point to attend. It would be terrific to see large turnouts across the State like we saw from our Brother Knights north of the bridge.