2023 State Bowling Tourney
Sun, Jan 22, 2023 8:15 AM

-
---
The year 2023 marks the 81st consecutive year of the Michigan State Bowling Tournament. Don't miss the opportunity to join in the fun!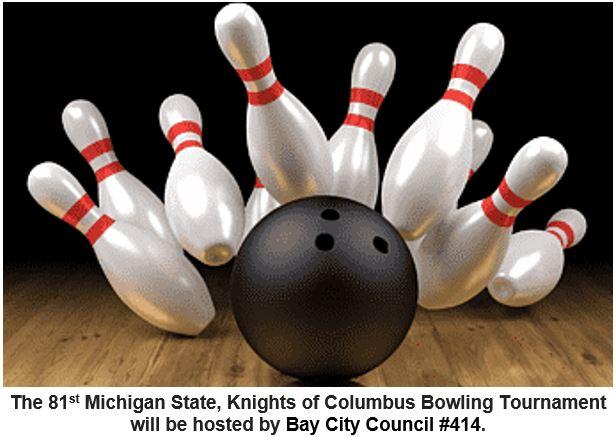 Tournament dates:

Officers' Tournament February 18, 2023 & February 26, 2023

Team event only entry fee is $150.00 per team.

(5 Man Teams - Need not all be officers)

Squad times are 9:00 am and 1:00 pm Saturday 2/18/23, and 10:00 am Sunday 2/26/23

Open Division begins February 25, 2023, to March 19, 2023

Squad times are 10:00 am for Singles, Doubles and Team events.

Entry fee, $30.00 per man per event

(Singles, Doubles and Team = $90)

Entry fee must be enclosed with your entry.
Bowling Center: Monitor Lanes, 1700 S Euclid Ave, Bay City, MI 48705 (989) 684-4381
Headquarters: Double Tree by Hilton, One Wenonah Park Place, Bay City, MI 48708 (989) 891-6000
Room rate for the tournament starting at $109.00 per Night.
Entry Forms: Officers and Open Entry forms are located on the website
https://www.michigankofcathletics.com/applications
Tournament averages (on website) will be used by everyone who has bowled in past tournaments. Tournament averages are based on all games bowled over the last four tournaments; anyone who has not bowled in the tournament since 2018 will not have a tournament average. If you need entry blanks I will be more than happy to send them. Karl J. Zawalski, Secretary (586) 322-5275 state.bowling.association@mikofc.org
Please submit entries early for priority registration and together for close assignments.
Visit https://www.michigankofcathletics.com for more info.