100 Year Old Knight
Thu, Jun 30, 2022 3:53 PM

-
---
Eugene E. Poupard has the distinction of being one of the oldest Brothers in our order.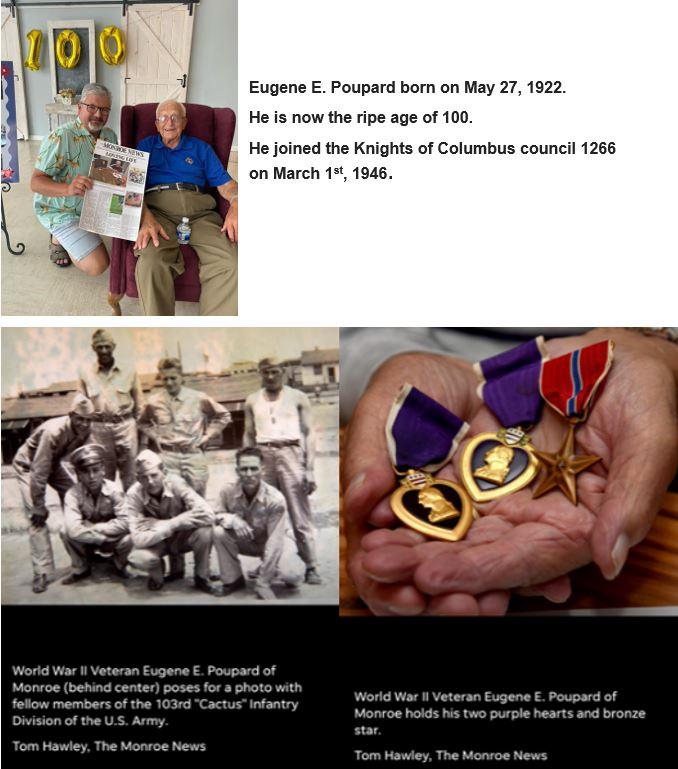 Eugene has been a member of the 4th Degree Raisin River Assembly #0488, since February 1st, 1961. A graduate of the class of 1940 at Monroe High School. While serving the United States Army during World War II he was awarded two Purple Hearts and a Bronze star. He and his wife Alice were married for 73 years until she passed away on March 26, 2019. Together they were parents of 12 children who blessed them with 36 grandchildren, 29 great grandchildren, and 1 great-great grandchild.
There were approximately 250 family and friends in attendance at a party in his honor hosted by his family at the Knights of Columbus Hall of Council #1266 on June 25th, 2022.
To quote Eugene, "I am thankful for the life that I have, and I thank the Good Lord daily to be so fortunate."
Julian Rios
Grand Knight: Monroe Council #1266