Solanus Casey Council #3797 Exemplification
Tue, Mar 22, 2022 2:37 PM

-
---
Meet our new Knights of Council # 3797 that took part in the Exemplification at St Margaret of Scotland on Sunday March 20.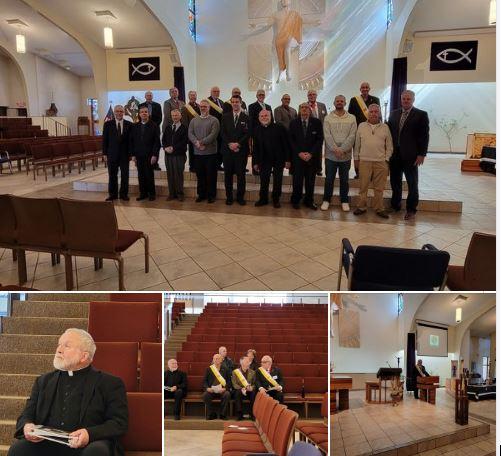 Solanus Casey Council #3797 hosted the event.
Lower left, our Council Chaplain, and Pastor of St. Margaret of Scotland Fr. Ronald DeHondt.
Also in attendance was Worthy State Advocate Charles McCuen III, Archdiocesan Membership Director Ken Krauss, Worthy DD Alex Truesdale, Worthy DD Joe Gomez Staff: Confirming Officer and Council Chancellor Fred Kuplicki. Charity was Council Trustee Tom Zasucha, Unity was Council Grand Knight Paul Desjardins, and Fraternity was Worthy District Deputy and Council Advocate Peter Wilhelm. The Warden was Deputy Grand Knight Jerry Harrold.
Candidates and New Brother Knights are Don Kowalski, Vincent Sietz, Joe Krolikowski, Joe Hayosh,
Anthony Marino, Brian Paver, Chris Perry, Tom Scurlock, Dan Spencer, Jim Horak.
Paul Desjardins GK Fr. Solanus Casey Council # 3797