SPECIAL MESSAGE FOR THE LADIES ATTENDING THE CONVENTION
Fri, Apr 29, 2022 1:41 PM

-
---
Ladies, we look forward to seeing everyone on Mackinac Island for the Michigan Knights of Columbus Convention. Whether this is your first convention, or you've attended too many to count we want everyone to feel comfortable.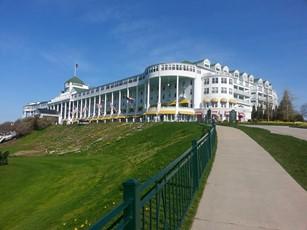 You may have missed the article in the April 4th edition of the Michigan Columbian in which we covered lots of topics. I have included the article below for your convenience, so you are familiar with the convention and the Grand Hotel.
We also need your help spreading the word to other ladies that you know are attending the convention who may not have any idea that this article exists.
One of the don't miss events during the convention is the Living Rosary held at 11:30am Thursday on the lawn of the Grand Hotel. You can view this from the fence line and the porch. This year we are asking ladies to wear a Kentucky Derby style hat.
Also, your husbands will be receiving through their Knights of Columbus email the week before the Convention a check list of some things you will not want to forget. Please make sure you ask them to share with you. For example, there will be some cash and check only things like the Charity Raffle being held during the convention for Holy Cross Services, K of C wearables, and taxi rides on the carriages.
Safe Travels, Karen, Julie, Mandy, Pam, Brenda and Mary Beth
April Michigan Columbian - Hello Michigan K of C ladies and all,
Now that the Ground Hog has seen his shadow it is time to begin planning for our MI state convention. Mackinaw Island-here we come.
The island is a magical experience whether first time or a returned visit. The Knights fill the island staying at the Grand Hotel or downtown hotels, the island is our playground.
First, let's start with packing. One formal dress for the banquet, dress clothes for the three masses. Warm clothes for the living rosary, umbrella or stylish hat for the outside weather. Good walking shoes and socks, dress shoes, sunglasses, medication, pantyhose, jewelry to mention a few.
Hydrocrafts transport us to the island, place your return stub in a safe place as to not pack it up, you will need it for your return to the mainland. Your vehicle will usually be directed to a lot away from the dock. Be sure to mention the K of C for a discount on your ferry ride to the island.
Once on the island your luggage will either be delivered to your hotel or you pick it up on the dock, be sure your church clothes are worn or available, you may not have your luggage in time. If not come to mass as you are, God will love it.
With registration the delegates (men) get an agenda of all K of C happenings while present at the convention. If you are coming as guest to the convention then you need to get informed of the happenings if you want to participate. Check with K of C registration to get your itinerary. This will be an election year so plan for a great experience with several hospitality rooms throughout the hotel.
We have opening mass with the possibilities of being in the Mac choir on Wednesday. Two additional masses both in the mornings of Thursday and Friday. The living Rosary will be on Thursday morning, banquet Thursday night, Friday concludes the convention.
There is fun stuff to fill your day with downtown shopping, bicycle rentals, dining experiences, golf. The Grand featured an article recently in the Times Herald with new attractions in the tea garden with pickle ball, strolling the gardens, badminton, table tennis and tennis.
Mackinaw Island is a state park and can be explored on foot, by bicycle, carriage or horseback ride. Michigan Highway 3 is approximately 8 miles long and stops can include: Arch rock, skull cave, devils kitchen, "Somewhere in times" famous spot. If you like the waterfront for stone skipping or sea glass collecting on the shoreline is great.
Some other attractions are: butterfly house/insect world. St. Anne's Catholic church, Historical Mission Church, Wings of Mackinaw conservation department, Haunts of Mackinaw, the Fort-I heard there is a tea served there, Robert Stuart House Museum, Biddle House Light Museum, Richard and Jane Manoogian Mack Art Museum. Marquette Park, Waswashkamo gift. Carriage companies Gough Carriages, Mackinaw Island Carriage Tours can provide tours of the island. All should be available but check first as COVID has changed many things.
Hope to see y'all soon whether it is on the island or at one of your council functions. May God continue to bless us, keep us safe, and give us peace.
Sincerely , Karen, Julie, Mandy, Pam, Brenda, Marybeth