2022 State Free Throw Winners
Tue, Mar 22, 2022 2:40 PM

-
---
Congratulations to the 2022 Michigan State Free Throw Champions!
GIRLS DIVISION

Age 14: Elizabeth Ballor of Shelby Twn.

Age 13: Olivia Thelen of Fowler

Age 12: Macie Smith of Portland

Age 11: Evelyn Lundberg of Oxford

Age 10: Macey Kerbrat of St Clair

Age 9: Stella Plocinik of St Clair Shores

BOYS DIVISION

Age 14: Jackson Dzwik of Battle Creek

Age 13: Frankie Wunderlich of Paw Paw

Age 12: Tyler Veasey of Sturgis

Age 11: Sam Conn of Grosse Pointe

Age 10: Colin Ray of Sterling Heights

Age 9: Cameron Shiffer of Hillm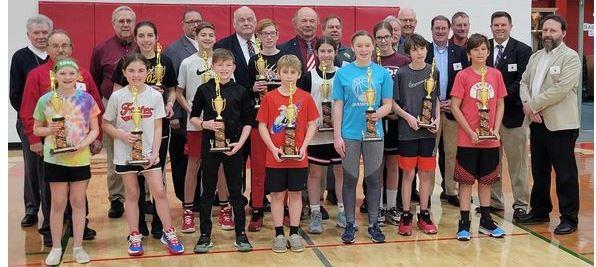 Special thanks to Mt Pleasant Council #1297 and Sacred Heart parish in Mt Pleasant for hosting this year's event.
Thanks to State Program Director Paul Palka, State Community Director Mike Haughey, State Membership Director Dan Fuller, State Raffle Director Kevin Rowley, State Special Olympics Director John Hundiak, State Training Director Jim Escott, SDRR Region #2 Dean Hayward, SDRR Region #5 Paul Thorn, Saginaw Diocesan Program Director Ray Gehlman, Gaylord Diocesan Program Director Horst Lehrer, Detroit Archdiocesan Program Director Region 4/North Joe Brenner, Detroit Archdiocesan Program Director Region 4/South Ken Warzybok, Grand Rapids Diocesan Program Director Tom Farley, District Deputy #709 Jose Reyes Sr, District Deputy #506 Christopher Sucher and everyone who helped with judging, scoring, retrieving, setup, and take down!
Most importantly THANKS and congratulations to all our young athletes and their parents for participating this year at Council, District, Regional, and State levels.
See You Next Year!