2021 State Raffle
Fri, Mar 5, 2021 4:48 PM

-
---
Watch the mail for your State Raffle Tickets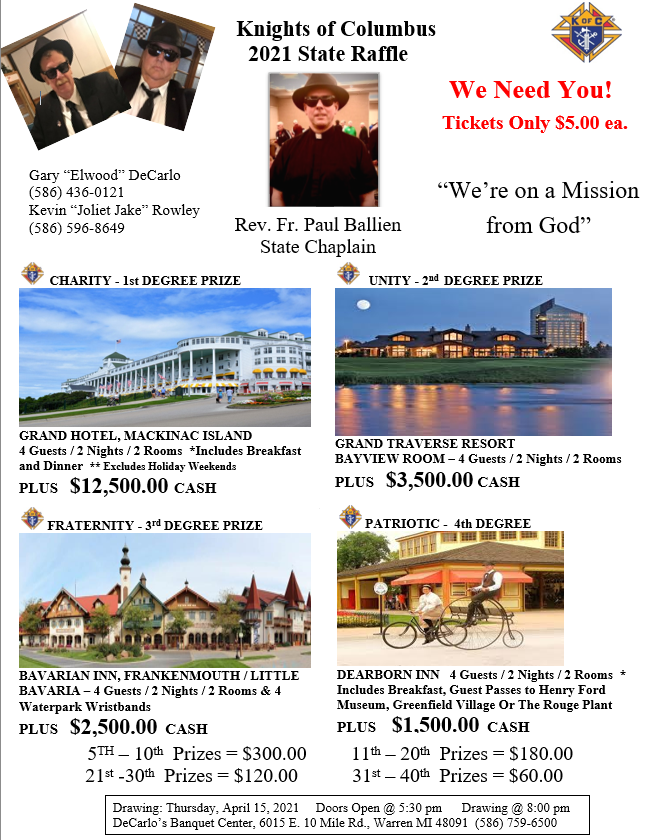 To view a list of other prizes and information click here.
If you don't receive your tickets or to order additional ones,
Contact - Kevin Rowley State Raffle Director 586-596-8649
- Larry Grabowski State Executive Secretary 586-883-9473
Great news again! We have surpassed last year's total by $16,428.00!
Bg gain since the last update. As of today's deposit the raffle is at

$255,865.00 Congratulations to all. We still have a lot of time to make more money for our State and Council charities.
Congratulations to all.
Keep up the great work!
DON'T FORGET TO SELL AT FISH FRYS!
Keep the momentum going.
What does this mean to your council? Money back! One dollar from every ticket goes back to the selling council.

So far, the local councils have made $51,173.00.

Keep selling those tickets!

Rise Up and Answer the Call!