Welcome to the Love Bus and the 68th Ultrasound Dedication!
Thu, Jun 17, 2021 9:28 AM

-
---
On a warm Tuesday afternoon on June 8th the 68th Ultrasound dedication took place at Immaculate Conception Parish in Three Rivers. This was a unique dedication blessing of a 31ft mobile unit that included a lifesaving Ultrasound graciously sponsored and lead by Pope Paul VI Council #4141, Three Rivers.
As the dedication proceeded the love of Christ became a common theme in the scripture readings and comments. Dcn. Mike McCloskey asked for support to name this mobile life saving unit the "Love Bus" as a following of the love of Christ and not to be mistaken by the love buses in the sixties.
Fr. R. Mathias lead a wonderful blessing of the Love Bus and Ultrasound that was followed by a check presentation to Dawn Bowen, Executive Director, Pregnancy Helpline Center. A plague presentation by Deputy Grand Knight John Stedman and Financial Secretary Larry Lalsh followed with congratulatory remarks by State Life Director, Ed Strach and State Warden, Jim Kraus.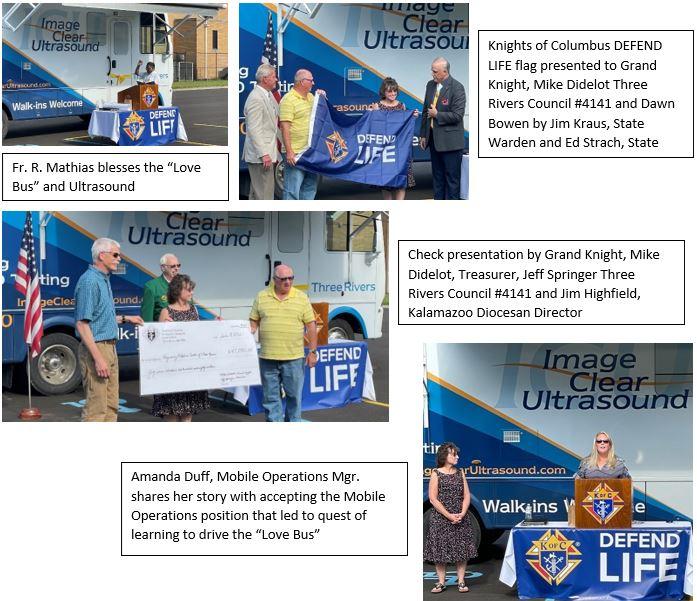 Special thanks were expressed by Jim Highfield to the Livingston County Ultrasound Initiative and the following councils that supported this initiative to Defend Life.
St. Ann Council #13633 St. Joseph Guardian of Mary Council #13749
Paw Paw Council #3798 St. Mary's Council #9962
St. Martin of Tours Council #13305 St. Basils Council #2594
Fr. Korst Council #2900 Deacon Jerry Mix Council #2508
Fr. John V. Dillon Council #3447 Dowagiac Council #2113
St. Catherine of Sienna Council #6980 Fr. Owens Council #11114
St. Margaret Council #7796 Immaculate Heart of Mary Council #1120
St. Augustine Cathedral Council #15439
Ed Strach Life Director
Michigan State Council Knights of Columbus
734-476-6296