"Stop Abortion Extremism" Webcast
Fri, Jul 8, 2022 3:57 PM

-
---
Webcast Thursday, July 14
Brothers and Families,
I have BIG news to share. Right now, Planned Parenthood and its well-funded political allies are working on a multifaceted approach to silence the pro-life movement in Michigan.
We are partnering with Protect Life Michigan to host an important online event, where you'll have the opportunity to seize this historic opportunity to END the death grip the abortion industry has on our state.
You may view the You Tube replay HERE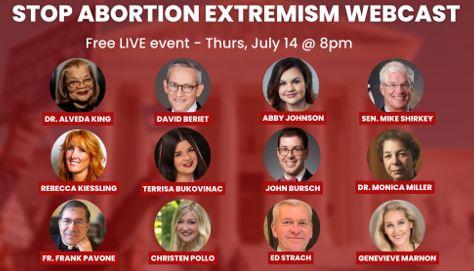 DETAILS:
What

: "Stop Abortion Extremism" Webcast

Date:

You Tube replay link

Time

: 8 PM

Cost

: FREE
During our time together at this FREE webcast, you'll discover...
BREAKING NEWS

about the abortion industry's scheme to silence the pro-life movement once and for all

OUR PLAN

to keep the abortion industry OUT of our communities

The 3 things you can do to STOP abortion extremism … in under 5 minutes!
...you'll experience a convicting time with other pro-life Michiganders to put a stop to Planned Parenthood's radical abortion agenda!
As Knights of Columbus, we must have the courage to defend life and support our pro-life partners. You and your council's efforts are needed at this critical time. Join us on this webcast to stay informed and focus our time and talents to defend life.
If you have a computer or mobile device and an Internet connection, you can easily join us.
Ed Strach Life Director
Michigan State Council
Knights of Columbus