St Joseph Icon – First Six Months Update
Fri, Aug 26, 2022 1:57 PM

-
---
Since beginning the St. Joseph Pilgrim Icon Program in February 2022, the Michigan Jurisdiction has seen wonderful participation. The program has been very well received, especially from our Clergy.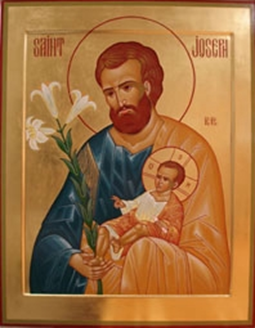 The stated goal is for ALL Parishes in Michigan to be given the opportunity to host the Icon for a week. For the first six months we are well on our way to making that a reality. Our District Deputies have been asked to request the Icon for their district, for as many weeks as they need it – based on the number of 'Parishes' in their district, not necessarily the number of Councils. A District in Kalamazoo for example had it for 9 weeks – there are nine Parishes in the district.
We are at the halfway point for the year. Let all the Districts who have not hosted an Icon or are not yet scheduled, fill out a request form and get on the schedule ASAP.
Go to https://mikofc.org/resources/Faith-in-action and you see a current copy of the schedule and for our District Deputies, the Pilgrim Icon Request Form Fill it out and sent to g.brunson@mikofc.org and I will get you on the schedule.
The chart below shows where we are to-date as a State.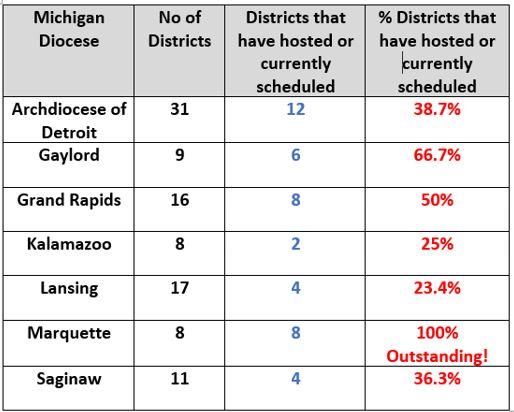 In the weeks ahead I will be reaching out to the districts who have not yet been scheduled assisting them in getting the Icon. Remember that this program is not for the Knights of Columbus rather for our Parishes.
Remember also for hosting councils to complete a form 10784, choose 'Pilgrim Icon Program' and the Icon # which is on the asset tag behind the Icon.
Greg Brunson State Faith Director