Special Olympics Report 2020-
Fri, Apr 23, 2021 9:17 AM

-
---

This past year has been a different year for Special Olympics. I use the word different because unlike many other events, the Special Olympics in Michigan were not cancelled but changed. Due to the pandemic, the Annual Summer Games opening ceremonies were virtual along with the games themselves. There was the Color Corps, running and lighting of the torch, and even a flyover. And yes, the athletes and their coaches did not let the pandemic stop them from competing. Wherever able, the athletes competed virtually and gave it their all! We can all learn a lot from these athletes.
Throughout the year, the Fall, Winter and Spring games all took place virtually and were successful. The success of these games were due in a large part to the dedication and efforts of the staff of the Special Olympics Michigan. A huge thanks to all of them.
Along with the virtual games, many councils continued fundraising for Special Olympics especially through the MI Drive. Thank you for continuing the work of the Order during these difficult times.
Unfortunately, the Summer Games have been postponed. Right now, depending on the Covid numbers, we are looking at the July timeframe to hold the games. As soon as we get firm information, we will pass it on. Again, thank you for all you do!
I am including an interesting fundraiser to be held by Michigan's Law Enforcement Torch Run (LETR) program with an interesting prize.
Take a look and consider donating. PURCHASE TICKETS HERE!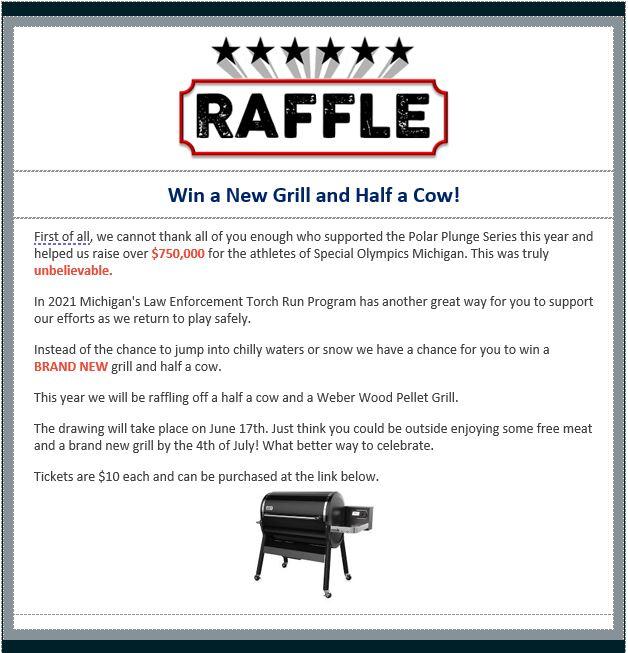 State Special Olympics Director John Hundiak