Saint of the Day for August 13 Blessed Michael J. McGivney
Sat, Aug 13, 2022 10:48 AM

-
---
Blessed Father Michael McGivney Feast Day – August 13
The official Feast Day in the Catholic Church of Blessed Father Michael McGivney is August 13. Patron and founder of the Knights of Columbus. The feast is celebrated annually across the universal Catholic Church. Bl. Fr. McGivney was born on August 12, 1852 and passed away on August 14, 1890 (aged 38). His feast day is celebrated on the 13th because it falls between these two dates. Bl. Fr. McGivney was Beatified on October 31, 2020 at the Cathedral of Saint Joseph in Hartford, Connecticut by Cardinal Joseph W. Tobin (on behalf of Pope Francis). This Cathedral is the Diocese Seat for the Bl. Fr. McGivney's shrine that also was the final parish church he served at during his life as a Priest and also where he founded the Knights (Church of Saint Mary in New Haven, Connecticut).
You can learn more about Bl. Fr. McGivney here.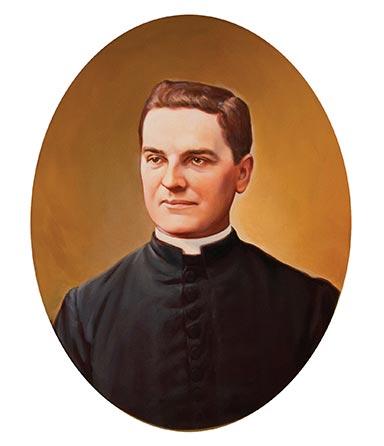 Blessed Michael McGivney's Story
The eldest son of an immigrant Irish family in Connecticut, young Michael left school at 13 to work in a brass factory making spoons. At 16 he began studies for the priesthood in Quebec but was obliged to leave to help support the family when his father died. Michael completed his education in Baltimore, Maryland, and was ordained for the diocese of Hartford in 1877.
Assigned to St. Mary's Parish in New Haven, Fr. McGivney was very active in parish and civic affairs, serving as director of public plays and fairs. He volunteered to become the guardian of Alfred Downes, a minor whose father had died leaving a large family in poverty. This situation as well as his own family's circumstances and that of other immigrants impressed on Fr. McGivney the need for lay Catholic men to establish a mutual aid society to provide financial assistance for their families if the primary wage earner died. Protestant fraternal groups already provided this type of life insurance protection for their members.
In 1882, Fr. McGivney formed the Knights of Columbus among a small group of St. Mary's parishioners to promote charity, unity, and fraternity, assisting widows and orphans. Because of the Knights' emphasis on serving Church, community and family, the organization grew and did not remain strictly parish-based. Patriotism was added as a founding principle in 1900.
Father McGivney died from pneumonia in 1890 and was buried in Thomaston, Connecticut. Later his body was moved back to St. Mary's in New Haven where it remains today. He was beatified in 2020.
Reflection
Michael Joseph McGivney was a genuine pastor who, in the words of Pope Francis, was unafraid to share "the smell of his sheep." He promoted families whose members were strong in their faith expressed through generous following of the corporal and spiritual works of mercy. In a decree read at the beatification Mass, Pope Francis praised Fr. McGivney's "zeal and the proclamation of the Gospel and generous concern for his brothers and sisters." These "made him an outstanding witness of Christian solidarity and fraternal assistance."
The Blessed Fr. Michael J. McGivney Prayer
God, our Father, protector of the poor and defender of the widow and orphan, you called your priest, Father Michael J. McGivney, to be an apostle of Christian family life and to lead the young to the generous service of their neighbor.
Through the example of his life and virtue may we follow your Son, Jesus Christ, more closely, fulfilling his commandment of charity and building up his Body which is the Church.
Let the inspiration of your servant prompt us to greater confidence in your love so that we may continue his work of caring for the needy and the outcast.
We humbly ask that you glorify your Blessed Father Michael J. McGivney on earth according to the design of your holy will.
Through his intercession, grant the favor I now present;
(here make your request)…………
Through Christ our Lord. Amen.