Roe V Wade Memorial & March
Wed, Jan 27, 2021 7:30 AM

-
---
Join Us in Lansing on January 27
Every year, many Right to Life of Michigan affiliates host events on or around Sanctity of Human Life Sunday. These include marches, vigils, memorial services, etc. to call attention to the value of every human life and mourn the ongoing loss of so many lives to abortion. Some affiliates organize bus trips to the national March for Life in Washington, D.C.
Unfortunately, pandemic restrictions and closures are making trips to the March for Life so much harder. Mundane questions like, where do tireless red eye travelers visit to stay warm or go to the bathroom the morning of the March become serious logistical problems. Pro-lifers don't have an army of government employees living in Virginia who can make the easy commute to attend rallies, we have to come from all over the country.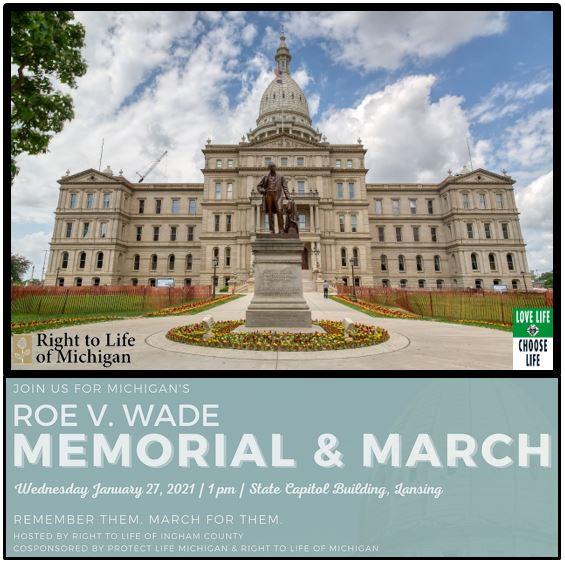 So, this year, we wanted to give Michiganders a more doable option to publicly speak out for unborn children. Every year, Ingham County Right to Life holds a rally at the Capitol, generally with just local residents attending. This year, we want to encourage everyone in the state to attend.
Right to Life of Michigan and Protect Life Michigan (which works with prolife college groups) are co-sponsoring Ingham County Right to Life's event, making it a march and memorial at the Capitol on Wednesday, January 27, at 1 p.m.
More details will be released in the coming weeks.
In the meantime, please let all of your prolife friends and family know. It's scheduled to avoid other local affiliate events (which you should attend!) and the few bus trips to the national March for Life still scheduled.
Let's remind Governor Gretchen Whitmer that her support for abortion-on-demand throughout all nine months of pregnancy will never, ever be acceptable.
Click here for more information → Protect Life MI | Michigan Memorial & March