More Fun for Life at the AOD East Diocesan Meeting
Wed, Jan 26, 2022 8:34 AM

-
---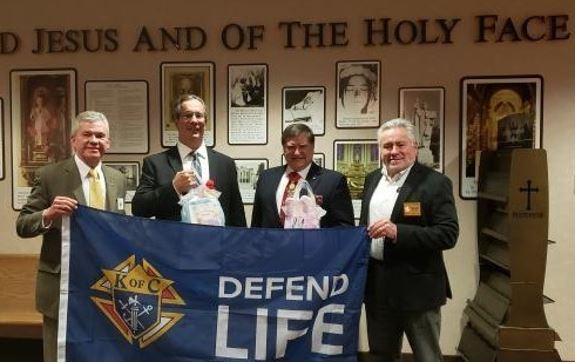 Pictured above L - R: State Life Director Ed Strach, General Agent Don Wesley, State Deputy Walter Winkle and Field Agent Dale Jacks of the Wesley Agency.
Another special auction for Life took place before the Archdiocese of Detroit Diocesan meeting Wednesday evening January 19, 2022.
With several challenging bids for two baby gift bags, a "Created in the Image of God" baby blanket and a DEFEND LIFE FLAG, General Agent Don Wesley will contribute $600 (a bonus of $100 was included as a donation from Brother Knight Ken Dumais of St. Mary of the Hills Council #13950), to Pregnancy Aid Detroit.