Monroe Council 1266 Recognized for International Faith Program Award
Wed, Oct 13, 2021 8:06 AM

-
---
Knights of Columbus-sponsored gathering of men grows by leaps and bounds; breakfasts seeing 'men's faith grow right before our eyes'.
MONROE — The significance of the honor didn't fully strike Elliot Alfredson until he began hearing the roll call of awardees at the 139th Supreme Convention of the Knights of Columbus in August.
A family from Poland. Councils from cities in the Philippines and Canada. And the winner of the International Faith Program Award? Knights of Columbus Council 1266 from Monroe, Mich., recognized for developing a breakfast program that has rejuvenated the faith of Catholic men in the community and injected new life into the council.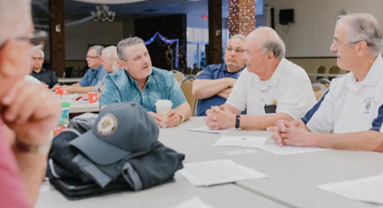 "It was incredible to experience that," said Alfredson, a member of St. Mary of the Immaculate Conception Parish in Monroe who co-founded the Men's Prayer Breakfast (MPB), which brings men together for prayer and fraternity at the Knights of Columbus Hall in downtown Monroe on the first and third Thursdays of each month.
The lay-led ministry affectionately calls itself the "Regular Joes," a nod both to the coffee that fuels the early-morning gatherings and the group's lack of pretense. "We're just regular guys who are coming together to share our faith and to grow our faith together," Alfredson said.
"Prior to MBP, I think most men kept their faith pretty private," he added. "They didn't even talk to other guys they saw in church about their faith."
The program is modeled on a successful men's prayer breakfast sponsored by Our Lady of Good Counsel Parish in Plymouth, which Alfredson joined after going through the Rite of Christian Initiation of Adults and attended weekly prior to moving to Monroe in 2016.
See the video of the Program and read the entire article on Detroit Catholic.