Miracle attributed to Fr. McGivney
Tue, Jul 28, 2020 1:14 PM

-
---
Parents: Baby miraculously cured in utero by
Fr. McGivney, now 5, 'has changed our life'
DICKSON, Tenn. (CNS) -- Mikey Schachle, 5 years old, climbs onto a stump in the yard of his family's home in Dickson.
He carefully takes stock of the short distance to the trampoline buried in the ground below him, then slowly steps off the stump into space and falls happily onto the trampoline as some of his 12 brothers and sisters surround him with smiles and hugs.
It's a scene that would have been impossible for his parents, Dan and Michelle Schachle, to imagine five years ago when they sat in a doctor's office to hear that their still unborn son had zero chance of living more than a few days or weeks.
It took a miracle to save Mikey.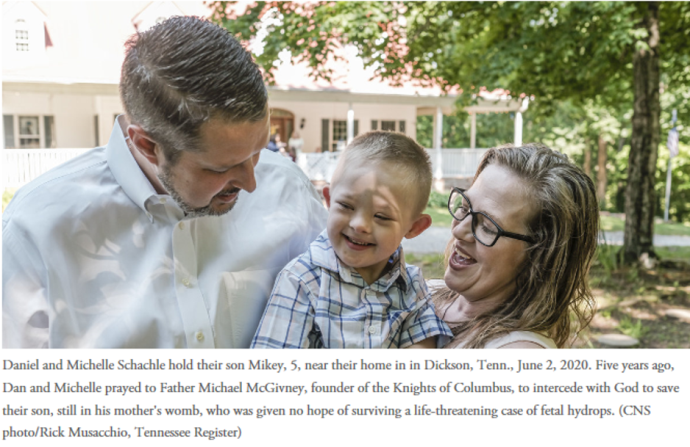 | | | | |
| --- | --- | --- | --- |
| | On May 27, Pope Francis approved the promulgation of a decree recognizing Mikey's cure from a deadly case of fetal hydrops while still in his mother's womb as a miracle attributed to the intercession of Father Michael J. McGivney, founder of the Knights of Columbus. With the approval of the miracle, Father McGivney, who now has the title of "Venerable," will be beatified and receive the title "Blessed." | | |
I think God had a plan for Father McGivney. I think God had a plan for Michael," Dan Schachle said of his son's miraculous cure. "You have to be open to God's grace, you have to be open to God's plan, because if you're not open to God's plan, he can't use you."
You may read the entire Article from Detroit Catholic