Michigan State Summer Leadership Conference
Tue, Jul 5, 2022 11:51 AM

-
---
The State Summer Leadership Conference was held at Treetops Convention Center in Gaylord from Friday July 1 to Sunday July 3, 2022.
The conference began with Mass on Friday afternoon at the Cathedral of Gaylord, St. Mary of Mount Carmel. We were honored to have Bishop Walsh celebrate the Mass for us.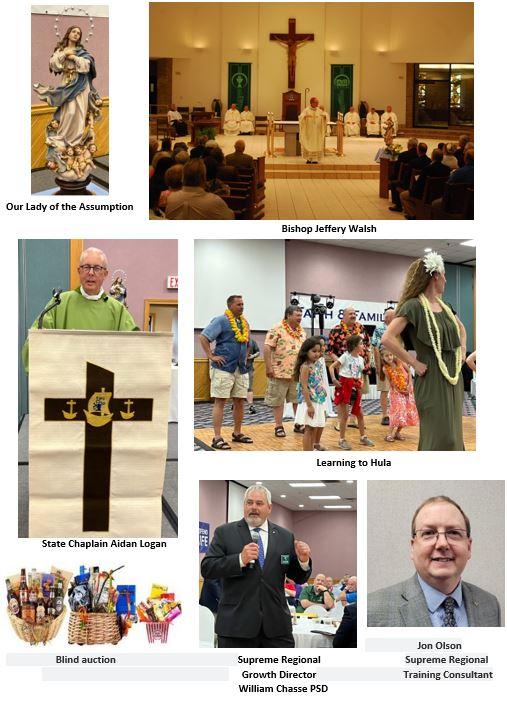 For the first year District Deputies the conference began on Thursday June 30 with workshops to get them up to speed. Along with our State Directors, sessions were hosted by Supreme Regional Training Consultant Jon Olson and Supreme Regional Growth Director, our own PSD William Chasse.
The workshops continued on Friday and Saturday morning to explain the State and Supreme expectations of the councils of our jurisdiction.
For the Masses and sessions in the main room our Mother Mary was always recognized in the form as a statuette of Our Lady of the Assumption.
Before dinner on Saturday, we had the pleasure of Mass in the center celebrated our State Chaplain Fr. Logan were he stressed the defense of our faith and morals by our modern day knights the Knights of Columbus.
Of course, the conference was not all work. Saturday evening there was time to relax and take advantage of a Polynesian themed Luau with our families.
A blind auction put together by the State wives raised over $2400.00 for charity.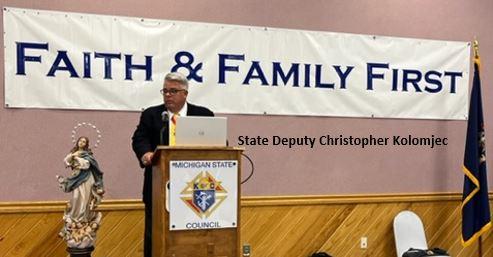 The State Deputy Chris Kolomjec closed the conference with an address after breakfast to the Knights, wives, and family emphasizing our commitment to Faith and Family to assist in growing our Catholic Church.