Michigan Coats for Kids
Fri, Nov 13, 2020 3:10 PM

-
---

Today, eighteen percent of American children and fourteen percent of Canadian children live in poverty. As a result, many families cannot afford to provide even the basic necessity of a warm winter coat. Putting their faith into action, Knights of Columbus councils have handed out more than 500,000 coats to children, with no cost to the recipient, throughout the United States and Canada through the Coats for Kids Program.
Here are three of the Coats for Kids events scheduled in our jurisdiction this fall.
MUSKEGON HEIGHTS
Thursday November 12, 2020
Sacred Heart School 150 E. Summit Ave, Muskegon Heights, Michigan 49444
The school is located on Hoyt St. Please park in the parking lot and enter the building through the double doors of the school. *SOCIAL DISTANCING WILL BE ENFORCED AND MASKS ARE REQUIRED*
When: 6:00 PM – 9:00 PM. Coat sizes: Boys & Girls sizes 4 to Boys & Girls size Large (Youth sizes for children K- 8th Grade)
Contact Garret Kelenske 231-571-5617, g.kelenske@mikofc.org
PONTIAC
Saturday November 14th, 2020 Sábado 14 de noviembre del 2020
10:00 AM - 1:00 PM
St Damien of Molokai Parish- St. Vincent de Paul Church
46408 Woodward Ave, Pontiac, MI 48342, USA
En St. Damien del Salón Parroquial de Molokai junto a la Iglesia de San Vicente de Paul
Coat sizes: Boys & Girls sizes 4 to 14
Tallas de abrigos: Niños y Niñas De talla 4 a 14
For COVID-19 Precautions: Only one parent with Child or parent with child's Birth Certificate are allowed in the building
Solo se permite la entrada a un padre de familia con sus hijos/hijas o puede venir el padre de familia con el certificado de nacimiento del niños/niñas
SOCIAL DISTANCING WILL BE ENFORCED AND MASKS ARE REQUIRED
If you or your family member are sick, please do not attend
SE REQUIRE TAPABOCAS Y MANTENER LA DISTANCIA SOCIAL.
Si usted se siente enfermo o un miembro de su familia le pedimos de la manera mas atenta que no asista a este evento
Contact Joseph Langhauser 248-489-6257, j.langhauser@mikofc.org
GRAND RAPIDS
Saturday, November 14, 2020
Where: Holy Name of Jesus Parish 1630 Godfrey Ave. SW Wyoming, MI 49509 When: Saturday, 10am to 1pm.
Coat Sizes: boys and girls sizes 4, to boys and girls XL No need to sign up. First-come, first-serve basis.
Child must be accompanied by a parent and child must be present. We be social distancing; everyone needs to wear a face mask at event.
Contact: Marty Brown 616-560-0479, m.brown@mikofc.org
DETROIT
Saturday December 12th
When - tentatively from 11 am to 2 pm at St. Anne's church in Detroit.
1000 St Anne St, Detroit, MI 48216
Contact - Detroit Program Director Lou Brotchner at 734-837-6371 l.brotchner@mikofc.org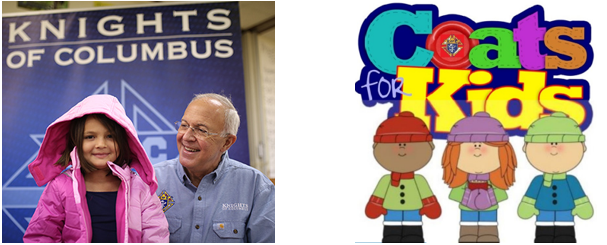 Coats for Kids. As you may be aware, coats are available from our Supreme Council's website for councils to purchase. Like in previous years, councils are able to conduct their own coat giveaway to local children that may be in need. Alternatively, our State Council will be sponsoring a number of Coats for Kids events at different locations in Michigan. Councils can participate by donating money to the State Council which allows more coats to be distributed at these events. It's a great way for councils that don't have the resources or the ability to distribute locally to help fund the state events. And of course earn a credit towards the Columbian award. To donate write your council check to the Michigan State Council, memo: Coats for Kids and mail to State Secretary Chris Kolomjec - 378 Fisher Rd Gross Point Farms 48230.
Rise Up and Answer the Call!