Mich Law Enforcement Polar Plunge for Special Olympics
Tue, Jan 12, 2021 3:06 PM

-
---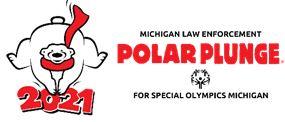 Dear Brother Knights,
During the month of February 2021 – the Virtual Polar Plunge for Special Olympics Michigan will take place all around the state. The Virtual Polar Plunge is a way to safely raise funds in a zany way for Special Olympics Michigan as participants freeze their fur in a wide variety of creative and "socially distant" ways:
*Take a dip in a kiddie pool *Make a snow-angel in your bathing suit
*Outdoor squirt-gun fight *Toss pails of cold water on each other
*Run through the sprinkler *Spray each other with the garden hose
*Other – be creative….
In an effort to support Special Olympics Michigan we are seeking participation from local councils for the Virtual Polar Plunge. By getting involved you are helping to fund Special Olympics Michigan athletes who compete in every county around the state. There are many ways to support this fun event:
Register online and create a fundraising page, then share it with family & friends.

Form a team. By your council virtually plunging as a team you will create team bonding as you work together to raise funds for Special Olympics Michigan.

Challenge others to take the Virtual Plunge: family, friends, children, co-workers, other Brother Knights

Donate an item for our Virtual Polar Plunge auction that takes place online. We can arrange for our volunteer committee members to pick up any donated items.

Awards will be given to top fundraisers: Individual Knights and Councils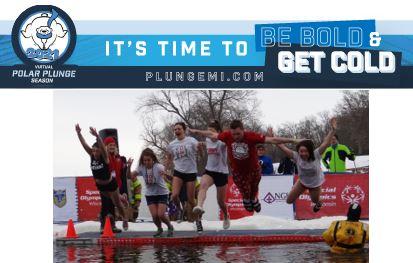 What kind of impact do our virtual events have? Here are our Social Media Analytics Data from 2020:
· Virtual Summer Games: 173,818 engagements, 11,526 views, ceremony videos = 32,411 views
· Virtual Fall Games: 213,000+ engagements; 13,000 views, ceremony videos = 13,945 views
For more information on the Virtual Polar Plunge and to register, please visit PlungeMI.org.
Special Olympics Michigan provides year-round sports training and athletic competition for children and adults with intellectual disabilities. Athletes build physical fitness, develop self-confidence, and prepare for participation in society. Special Olympics Michigan is supported entirely by private funding and without support of state or federal funds. The generosity of our partners – like the Michigan Knights of Columbus, enables the program to continue.
Thank you in advance for your time and consideration and we look forward to hearing from you soon!
Best regards,
Robbie Waclawski
Special Gifts Manager
Robbie.Waclawski@somi.org 989-774-1427