Message from Archbishop Vigneron
Fri, Oct 28, 2022 12:17 PM

-
---
Archbishop calls on Catholics to mobilize against 'deadly' abortion proposal, pray and support pro-life coalition's efforts.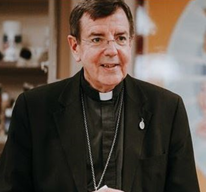 DETROIT — Catholics and people of goodwill must vote and fight against a "vast and extreme" ballot proposal in Michigan that would dramatically expand abortion in the state, Archbishop Allen H. Vigneron said in a Sept. 17 letter to the faithful of the Archdiocese of Detroit.
The "Reproductive Freedom for All" proposal, which will appear on the Nov. 8 general election ballot as Proposal 3, seeks to amend Michigan's constitution to allow "unregulated abortion on demand through all nine months of pregnancy" and upend dozens of laws protecting women, minors, health care providers and victims of abortion, the archbishop said.
"The implications of this proposal are vast and extreme," Archbishop Vigneron wrote. "If passed, the proposal's vague wording would result in the elimination of dozens of Michigan laws relating to abortion, including laws prohibiting partial-birth abortion and taxpayer-funded abortion; laws requiring parental consent and informed consent for abortion; laws protecting the conscience rights of persons who refuse to participate in abortion, and more. The proposal would prohibit lawsuits from being brought against any individual for performing an abortion, even when complications result from the procedure."
Read the entire article from Detroit Catholic
Watch the Archbishop's message HERE