Mass for the Protection of the Unborn
Wed, Jan 19, 2022 10:04 AM

-
---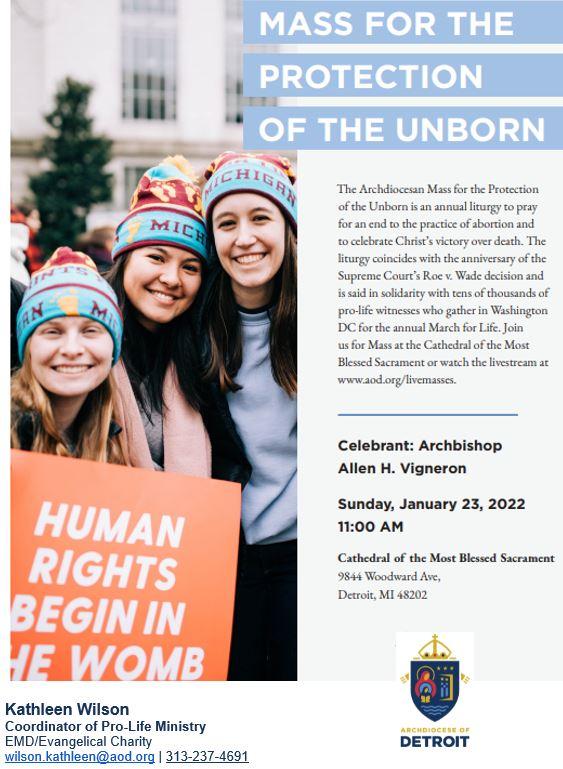 On behalf of the Archdiocese of Detroit, we would like to invite the Knights of Columbus Council Members and Families who are not attending the March for Life in DC this year to attend a special Mass for the Unborn at 11am on Sunday, January 23 at the Cathedral of the Most Blessed Sacrament, celebrated by Archbishop Vigneron.
It would be great to support the Archbishop and fill the Cathedral with our witness. This Mass will be livestreamed to a National audience; may the Nation know, here in Detroit, in our Archdiocese and in our State, we are ready for the fight ahead, ready to defend the dignity of every life, the right to life, and ready to accompany those abortion vulnerable women, men and families in our midst.
We are so grateful for the Witness of the Knights of Columbus in so many concrete ways at the council level. Thank you for the education and the outreach to the vulnerable in our community, especially through your ultrasound initiatives to pregnancy help centers and consistent prayer support outside abortion centers
Thank you and God bless you and the sacrifices you make for life! Please continue to let us know if there are any ways we might better support the Prolife efforts of the Knights.