March for Life Pro-Life Legacy Award Winner
Mon, Dec 21, 2020 2:10 PM

-
---
Each year the March for Life has a tradition of recognizing a remarkable person through the Pro-Life Legacy Award – a person who has dedicated his or her life to building a culture of life. This award, presented during the Rose Dinner, is gifted to longstanding heroes of the pro-life movement.

March for Life is delighted to announce that the 2021 Pro-Life Legacy awardee is Supreme Knight of the Knights of Columbus, Carl Anderson.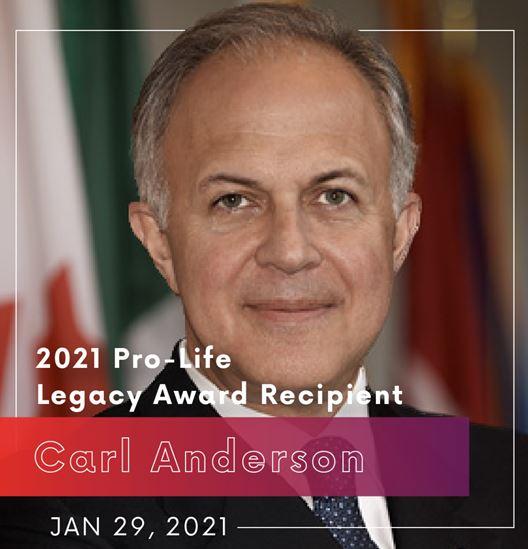 Supreme Knight Carl Anderson is a former Professor and Dean of the Pontifical John Paul II Institute, former Special Assistant to President Ronald Reagan, and current Supreme Knight of the Knights of Columbus. Anderson has dedicated his career to furthering the pro-life cause through policy, education, and through his tireless pro-life work with the Knights of Columbus.
Carl Anderson has accomplished enormous milestones in our collective work to make abortion unthinkable, he is a true pro-life warrior, and is highly deserving of this year's Pro-Life Legacy Award. It is thanks in large part to the work of Mr. Anderson that the movement has made many advances that can be celebrated today.
I hope you will join us in honoring Mr. Anderson at the Virtual Rose Dinner Gala!
Jeanne Mancini President March for Life
Register for our Virtual Rose Dinner Gala to watch the award presentation, including remarks from Mr. Anderson!