Knights and the Spanish Flu
Tue, May 19, 2020 7:30 PM

-
---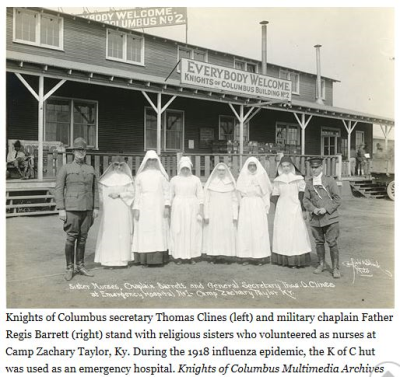 More than 100 years ago, Knights served on the front lines against the deadliest pandemic in modern history
News stories about the Spanish influenza pandemic of 1918 sound strikingly familiar today: reports on schools closing, church services being suspended and temporary hospital wards being set up.
Equally familiar are news headlines about how the Knights of Columbus responded. One headline in the Oakland Tribune on Oct. 26, 1918, read, "K.C. Order May Donate Hospital; Knights are Busy Caring for Sick." The next day, a San Antonio newspaper reported, "K.C. Secretaries Fight Influenza."
These K of C secretaries, or "Caseys," were the men who staffed the Order's network of military recreation huts during World War I — and they were in a prime position to help. Military bases, where thousands lived in close quarters, were hit hard by the virus.
Although many huts were ordered to close to slow the spread of flu, secretaries found ways to continue their work. At Camp Dix, N.J., where outdoor events were still permitted, Caseys showed outdoor "moving pictures" to huge audiences each night; others delivered reading material and stationery to soldiers quarantined at Camp Dodge, Iowa. In San Antonio, secretaries donned masks to visit with soldiers hospitalized at Kelly Field.
As the number of flu patients mounted at Camp Zachary Taylor in Kentucky, one of the Army's largest training camps, the Knights' hut became a temporary hospital ward and scores of Catholic religious sisters volunteered to serve as nurses.
By the time the pandemic had ended, an estimated 500 million people had been infected with the Spanish flu — about a quarter of the world's population. The death toll worldwide was 50 million. More than 3,000 members of the Order — nearly a million strong at the time — succumbed to the deadly disease.
A Sister of Charity of Nazareth working at Camp Taylor recalled how much the K of C secretaries helped through the difficult months as approximately 800 soldiers in the camp died.
"The Knights of Columbus were engaged for the greater part of the day and night," she wrote in 1920 in a report for the Kentucky Department of Military Affairs. "It was they who found the Catholic sick and piloted the priests to them. Without such aid, the priests could never have found their way to so many."
The sister concluded, "The Sisters could go to the Knights of Columbus for anything they wanted in the way of extras for their boys, and whatever was wanted would be gotten."
By CECILIA HADLEY senior editor of Supreme Columbia magazine.