Joint C,F,U Exemplification
Thu, Jan 19, 2023 8:53 AM

-
---
On Tuesday January 17 Bishop Kevin Britt Council #8117 in Ada along with Sacred Heart Council #13641 from Grand Rapids conducted a joint exemplification at St Robert.of Newminster Parish.
Welcome to new members to our Order; for 8117 - Guillermo Arce, Don Wotring, and Jeff Dills. For 13641 - Joel Bading.
Many thanks to the Exemplification Team and GK Jason Bargenquast, who made for a memorable event. Council #8117 is now at 100% of their annual membership quota!
I'm confident the momentum for the council will continue with additional new members before the fraternal year-end.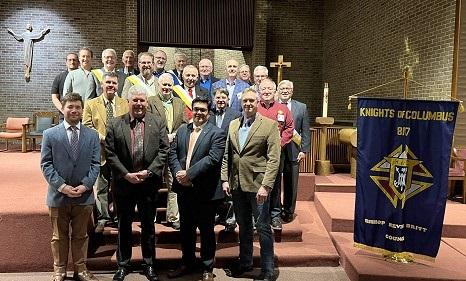 The Knights pictured in the pic include:
Front Row: New members - Joel Badding, Jeff Dills, Guillermo Arce and Don Wotring.
Second Row: Steve Kenyon, Quincy Leslie, George Christopher, Scott Hamilton
Third Row: Paul Allie, GK 13641 Jason Bargenquast, Ted Wright, Gary Cook, Pat Droste, DD 311 Jack Sablan.
Back Row: Scott Przekop,, Joe Szperski, Gene Gutting, Tony Buzcek, Joe Stojak, Larry Adams, GK 8117 Steve Vanderlaan.
Many thanks to Worthy GR Diocesan Membership Director, Larry Adams for joining our exemplification and council meeting!
Ad maiorem Dei gloriam
For the greater glory of God
Jack Sablan District Deputy #311