Jackson District #513 Blue Mass
Mon, Sep 12, 2022 10:37 AM

-
---
Jackson District #513 Blue Mass for First Responders September 11, 2022
Jackson area Knights of Columbus Michigan District #513, under the direction of District Deputy Ben Dandrow, organized a Blue Mass on Sunday September 11, 2022. The District is comprised of five councils representing the following churches: Queen of the Miraculous Medal #609, St John the Evangelist #8392, St. Stanislaus Kostka Chapel #8858, St Joseph Oratory #9131, and St Mary Star of the Sea #9301. The concelebrated Mass was held at St Mary Star of the Sea Church located in Jackson, MI at 10:00 am.
A Blue Mass is to honor, thank, and pray for the safety of all First Responders, Police, Fire, and Emergency Medical Responders, the men and women who lay their lives on the line daily to protect the Jackson community. It was appropriate we did this on the 21st Anniversary of the 9/11 attack on this country when 412 emergency workers lost their lives that day. 2000 more have died from injury or illness contracted during the recovery efforts. All Jackson area Public Safety departments were invited and more than 50 responders and their families attended the Mass, many who were not Catholic. At the Mass, Fr Tim Nelson, Pastor of St Mary's, read the names of those who fell in the line of duty serving the community. Many who attended were on duty as witnessed by the three fire trucks and police and sheriff vehicles parked outside the church.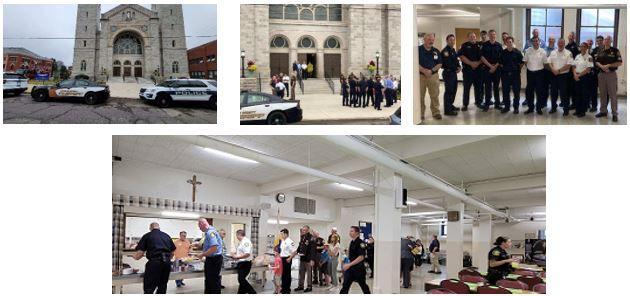 The Jackson area Knights of Columbus, who continue to pray for the safety of our first responders, would like to thank Fr Tim Nelson Pastor and Fr Tyler Arens Parochial Vicar for hosting and concelebrating the Mass at St Mary Star of the Sea and St Mary's Council #9301 for their support and help in making the Blue Mass a success.