from Supreme Convention
Thu, Aug 5, 2021 8:21 PM

-
---
NEW HAVEN, Conn. The Knights of Columbus named the Steciak family of Rembieszyce, Poland, as the organization's 2021 International Family of the Year.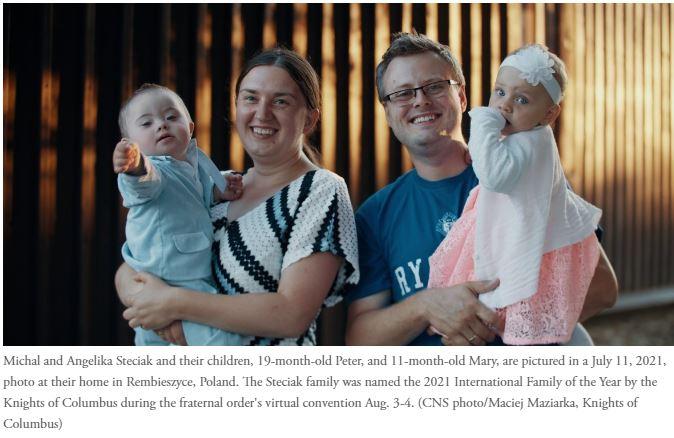 The family as recognized for being "deeply involved in the life of the church" by leading "numerous social and volunteer initiatives," including an outreach to the elderly and children with disabilities.
The honor came during the Knights' 139th annual convention Aug. 3-4. It was held virtually, with key events being broadcast from the Supreme Council's headquarters in New Haven and members from around the world participating online.
Five local Knights councils also were recognized for a range of efforts over the past year, including helping men become better fathers, building up council membership, helping foster families' faith amid the pandemic lockdown and going the extra mile to support an annual March for Life affected by the pandemic.
Archdiocesan Monroe Council 1266, Monroe, Michigan: was awarded the International Award in Faith category for creation of a group fostering brotherhood and an environment "where they take responsibility for learning, living, strengthening and sharing the faith by hosting a men's prayer breakfast.
The conference, which had as its theme "Called to Creative Courage," opened with a Mass celebrated at St. Mary's Church in New Haven.
You may read the entire story from Detroit Catholic HERE.
Watch the Supreme Convention Opening Mass & Annual Report of the Supreme Knight Patrick Kellyby going to the Supreme website.