Family Program Keep Christ in Christmas
Fri, Nov 12, 2021 11:06 AM

-
---
Keep Christ in Christmas
My Brother Knights and Families, time is running out to get our Keep Christ in Christmas programs going. With the beginning of Advent on Sunday the 28th of November the Christmas Season will begin. So, if your Council hasn't started planning you are way behind. When I mention Keep Christ in Christmas what comes to mind? Is it the Christmas Card sales or the Poster contest? Well, there are so many other events that our Councils can do. Here are a few ideas that might be something that your Council or Parish has not done before.
The Journey to the Inn program, Franciscan missionaries in the 16th century found that simple reenactments of the story of Christ's birth could touch the hearts of those they encountered. The Spanish missionaries referred to these ceremonies as Las Posadas — meaning "the inns" or "the shelters" — as they emphasized Mary and Joseph's search for shelter before Our Savior's birth. The tradition of the Posada helps us to remember the first Christmas in a way that unites people of faith throughout the American continent. This event brings together people of many cultures and shows how faith and the celebration of Christmas transcend any differences we may have. You may order or download the booklet, #9898, from the Supreme website The program may be modified to fit your Parish and Council needs.
Spread the Light of Christ each Advent by lighting and blessing a Christmas tree at your parish or another approved public location. As part of the tree lighting event, you may also ask your pastor to preside over the dedication and blessing of your church's crèche. You could also ask your Council members to set up their own crèche in their yard. Another idea is to ask your membership to set up a time on zoom or other platform to conduct a tree lighting in their own homes all at once with some prayers, getting even the members who may be homebound to participate.
Submit a Keep Christ in Christmas advertisement to your church bulletin or local newspaper maybe buy a spot on your local television or radio station. Try a yard sign sale with your card sales. There are many ways to do something that is different this year. I would like to remind you that while Breakfast with Santa is a wonderful program, it does not satisfy the requirements for the Keep Christ in Christmas community program. If you hold a breakfast with Saint Nicholas program that will work. I hope that this has maybe stirred up some new ideas for you to try.
In closing from my family to all of yours have a Blessed and Merry Christmas!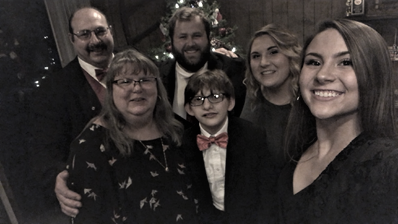 Garret A. Kelenske State Family Director