Convention Raffle Items
Tue, May 10, 2022 5:30 PM

-
---
CONVENTION RAFFLE BASKETS
Hello all,
We are quickly approaching our Mackinaw Island Spring convention and I would like to thank everyone for the baskets that have already been donated if you are donating a basket and have not turned in your donation slip there is still time to do so, so that we can get the labels made before you reach the island and label them immediately. We are still in need of Baskets!! Since we were unable to have the Convention last year our charities that we support suffered. Because of it this year I would like to have a wonderful showing of support and make this the best year ever and make up some of the donations to our charities that we support. Thanks to the generosity of our KofC family I believe this year will be amazing. Again, if you have your donation sheets done please send them to me p.mccuen@gmail.org if you need the Donation Sheet contact me. Please don't hesitate to reach out if you have questions.
Thank you,
Pam McCuen State Advocate Wife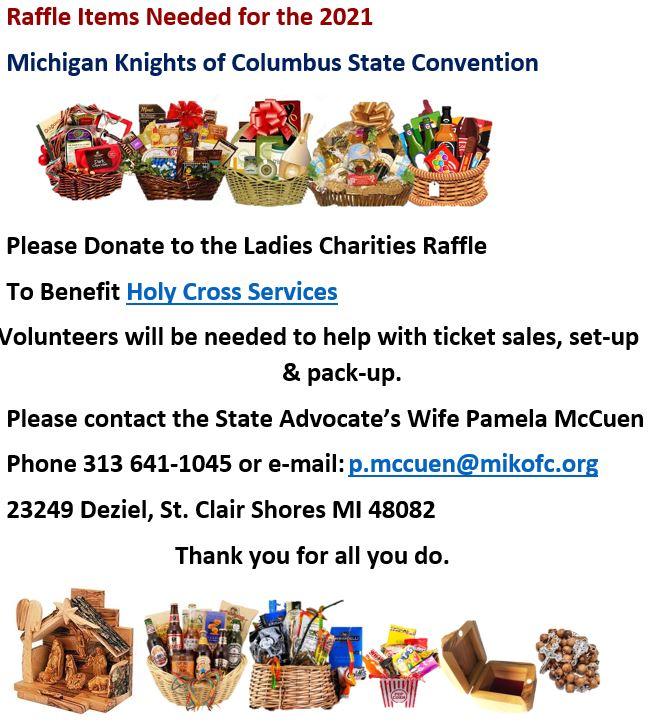 Please Donate to the Ladies Charities Raffle to Benefit
Volunteers will be needed to help with ticket sales,
set up and pack-up. Ladies, please use the donation
form and return before April 15th.
Please contact the State Advocate's Wife:
Pamela McCuen
23249 Deziel, St. Clair Shores MI 48082
e-mail: p.mccuen@mikofc.org
Cell: 313 641-1045
Access the donation sheet HERE
Non-Delegates, please give your donation to your DD & he will bring to the Grand Hotel