Additional Online Exemplifications
Wed, May 20, 2020 7:30 PM

-
---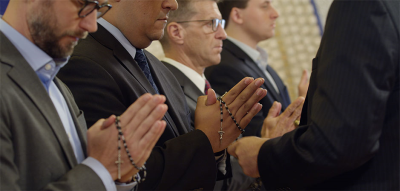 Because of it's popularity the Supreme Council continues to host online exemplification ceremonies while social distancing rules are in effect. We ask that you promote them heavily.
Supreme has streamlined the procedures to make it as easy as possible for candidates to participate and for councils to process them. We are offering six online ceremonies over the next two weeks to accommodate a variety of schedules and time zones.
A candidate or observer can choose a ceremony that best fits his schedule. If a first choice is closed out due to capacity limitations, he should pick another time slot that still has openings.
Remember this is a great way for your first-degree members to advance.
The procedure to follow is very simple.
· Grand knights or financial secretaries invite eligible candidates for admission and advancement to participate by forwarding this downloadable PDF invitation to them.
Provide each candidate with your council number and instruct them to register for the exemplification of their choice by clicking on the associated link within the PDF. Tell them that their families are welcome, and encouraged, to observe. For your benefit, the ceremony schedule is as follows:
| | |
| --- | --- |
| | ENGLISH |
· Follow up with the candidates to guide them through the registration as needed.
· Candidates should log in no earlier than 15 minutes prior to the exemplification.
· After the ceremony, process the candidates by submitting form 100s the old way, or electronically in Officers Online.
Note that candidates for admission must be approved by your council. You may coordinate electronic voting for them using the temporary rules for electronic voting found HERE.