81st MI KC Ultrasound Dedication – We Are All A Family For Life
Tue, Jun 21, 2022 3:09 PM

-
---
The 81st Michigan Knights of Columbus Ultrasound dedication ceremony took place on Saturday, June 11, 2022, at Pregnancy Help Clinic Flint. This Ultrasound placement was led by Fr. Louis P. Gauthier Council #10170 and part of the Flint Ultrasound initiative that has placed multiple Ultrasound units in the Flint area.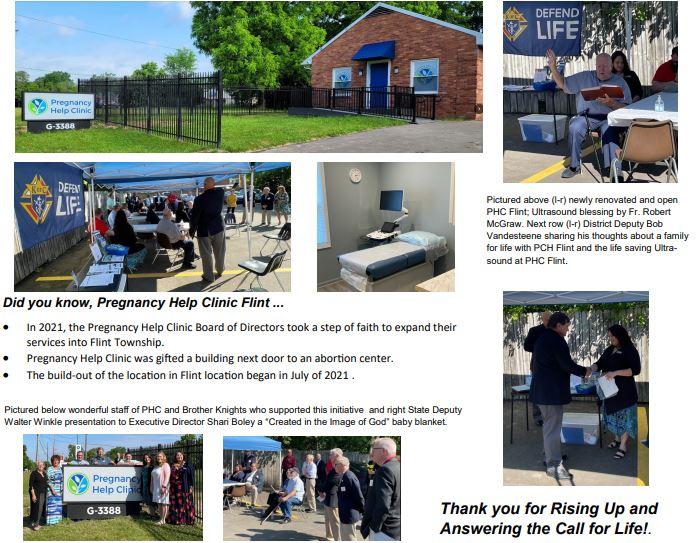 Supporters of the Pregnancy Help Clinic Flint Ultrasound Initiative: These supporters are responsible for raising $19,265, 50% of the cost of this Ultrasound with the other 50% provided by Supreme Council Knights of Columbus totaling $38,530! District #502, District Deputy Bob Vandesteene Councils #4090 Davison, #4285 Mt. Morris, #10170 Burton (lead council), #11532 Burton, #13703 Clio District #504, District Deputy Rick Perry Councils #6694 Swartz Creek, #6742 Grand Blanc, #7418 Fenton, #8489 Flushing District #512, District Deputy Mike Szukhent Councils #695 Flint, #8245 Flint, #8669 Montrose,#12090 Flint, #17509 Flushing, Memphis Council #10501, St. Francis Council #4401, Msgr. Patrick R. Dunigan Assembly #510.
Special thank you to the Livingston County Ultrasound Initiative and their continued support!
Ed Strach, Life Director