67th Mich KC Ultrasound
Sat, Oct 24, 2020 8:52 AM

-
---
Taking Action in Building a Culture of Life
As a show of Unity councils in the Archdiocese of Detroit (AoD) South Area joined forces and raised funds once again to help in the placing of the 67th Ultrasound, this time at Family Life Services in Ypsilanti. This was the 2nd Ultrasound obtained by the AoD South Area, and Monroe Council #1266 led 15 other councils (listed below) to Build a Culture of Life with this Ultrasound for Family Life Services.
On Octorber 15th Monroe Council #1266 with Grand Knight Joseph Vitale and Financial Secretary Shawn Piedmonte, assisted in the dedication ceremony for this life saving machine at Family Life Services. Money was raised through an art auction and support by 15 other councils and District Deputy, Charlie Rozum.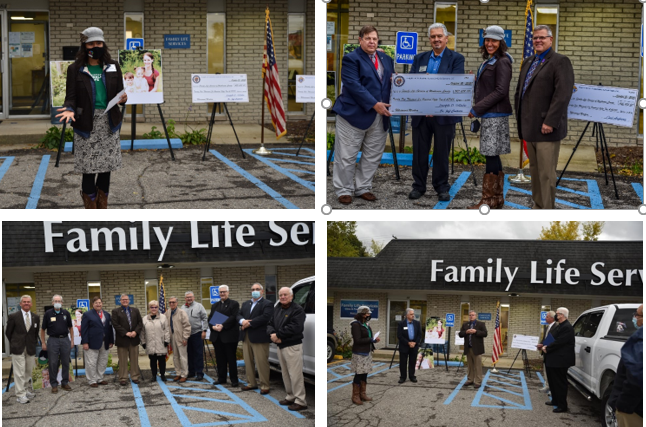 Pictured above (top left) is Yari Cherney, Executive Director, Family Life Services who gave a special thanks to the Knights of Columbus for this life saving instrument and giving a brief history of Family Life Services. In particular was Ms. Cheney's comments that the present Family Life Services building was once occupied by Planned Parenthood.
The check presentation was given by District Deputy, Mark Elias and Shawn Piedmonte, Monroe Council #1266 to Family Life Services, Yari Cherney.
The lead and supporting councils include:
#1266 - Monroe Council - Lead Council

#1802 - Wyandotte Council – Wyandotte

#8284 - Msgr. Clement Kern Council - Canton

#2660 - Bishop Foley Council – Dearborn

#11430 - Fr. John Kenna Council - Temperance

#2819 – Msgr. Champion Council - River Rouge

#13475 - Sacred Heart Council - Grosse Ile

#3078 - Robert H. Jones Council - Lincoln Park

#13645 - St. Edith Council - Livonia

#3615 – Msgr. Eppenbrock Council – Trenton

#13810 - Fr. Maurice Veryser Council Dbn. Hgts.

#3860 - Fr. Patrick O'Kelly Council – Dearborn

#13980 - Riverview Council - Riverview

#4401 - St. Francis Council - Farmington

#16169 – St. John Neumann

#5446 - St. Mary's Council - Rockwood

District Deputy #129 Charlie Rozum
The ribbon cutting was grasiously done by David and Tina Heilman, fundraiser chairs for the fundraiser and Shawn Piedmonte both from Monroe Council #1266. Deacon Tracy Esper, St. Michael the Archangel Catholic Church, Monroe presided over the opening and closing prayers including the blessing of the Ultrasound shown below.

| | |
| --- | --- |
| | As we continue to Build a Culture of Life through the pathways of Prayer, Taking Action, Standing Up and Giving, let our councils and families give thanks to our Lord Jesus Christ for our actions. The AoD South Area is still raising funds for a 3rd ultrasound. If your council is interested in helping in this endeavor, please let us know. |
Ed & Lynn Strach Pro-Life Chair Couple
Michigan State Council Knights of Columbus