2020 Supreme Virtual Convention
Wed, Sep 9, 2020 11:42 AM

-
---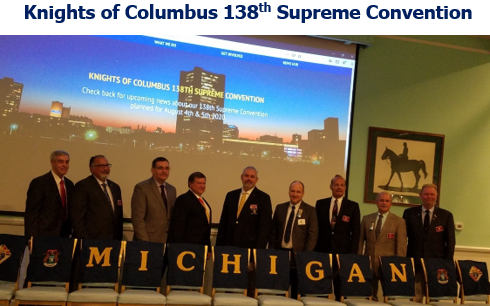 My name is Martin Brown and I am a member of Council 4404 in Conklin, MI. I was selected to be a delegate to the Supreme Convention 2021 in Denver, but things changed, and I was a delegate for the 2020 Convention in Washington DC. Then Covid 19 changed plans for Supreme Convention so we met virtually from August 4 through August 6.
Our State Deputy, Walter Winkle was asked to bring the delegates together in one location for the Convention. The decision was made to gather at the Grand Hotel on Mackinac Island. The Convention started on Tuesday evening with virtual opening Mass with Celebrant His Excellency Most Reverend Leonard P. Blair, Archbishop of Hartford. Following Mass, Carl Anderson, Supreme Knight, addressed everyone with his Annual Report. SD Walter explained to us the opening Mass normally takes 5 to 10 minutes for the Honor Guard to process in because they would not turn away any Honor Guard. For many years, Michigan always sat in the front row across the aisle from the Supreme Knight. The chair covers, in the picture above, were used to greet the delegates from Michigan.
Day two started with private Mass for the delegates and their wives, celebrated by our State Chaplain Father Paul Ballien. The virtual business session of the convention started at 10:00 am and finished at 1:15 pm. During the session, Supreme Directors were elected or reelected. Resolutions were also read and voted on. Supreme Chaplain Archbishop William E. Lori gave a very nice message. At 2:30 pm the Memorial Mass for Deceased Knights of Columbus was held with Celebrant His Excellency Most Reverend William E. Lori, Archbishop of Baltimore, Supreme Chaplain. The Convention Awards Session followed Mass with awards given for Faith Program, Family Program, Community Program, Life Program and Family of the Year. Michigan also received the Circle of Honor Award for achieving our Membership goal due to the great work of everyone in the state of Michigan.
Wednesday evening was the Formal States Banquet. I've been told, Michigan has one of the best hospitably rooms at the Supreme Convention with people from across the nation stopping in. But this year we had a reception on the world-famous front porch of the Grand Hotel.

Following the reception, we were served a delicious dinner in the Pontiac Room. At the States Banquet, each state would sing songs from their State. Since we only had Michigan Knights and wives, we sang different fight songs from Michigan colleges. Even State Chaplain Father Paul sang the Michigan Tech fight song. Also, the table markers were signed by all present and given to some of us.
It wasn't that same as being at the Supreme Convention "in person" but I was very proud to represent my Council and the State of Michigan at this year's Supreme Convention.

Marty Brown State Deputy Region 3 Representative
m.brown.mikofc.org